Jute Cushion Covers: A Stylish and Eco-Friendly Choice for Your Home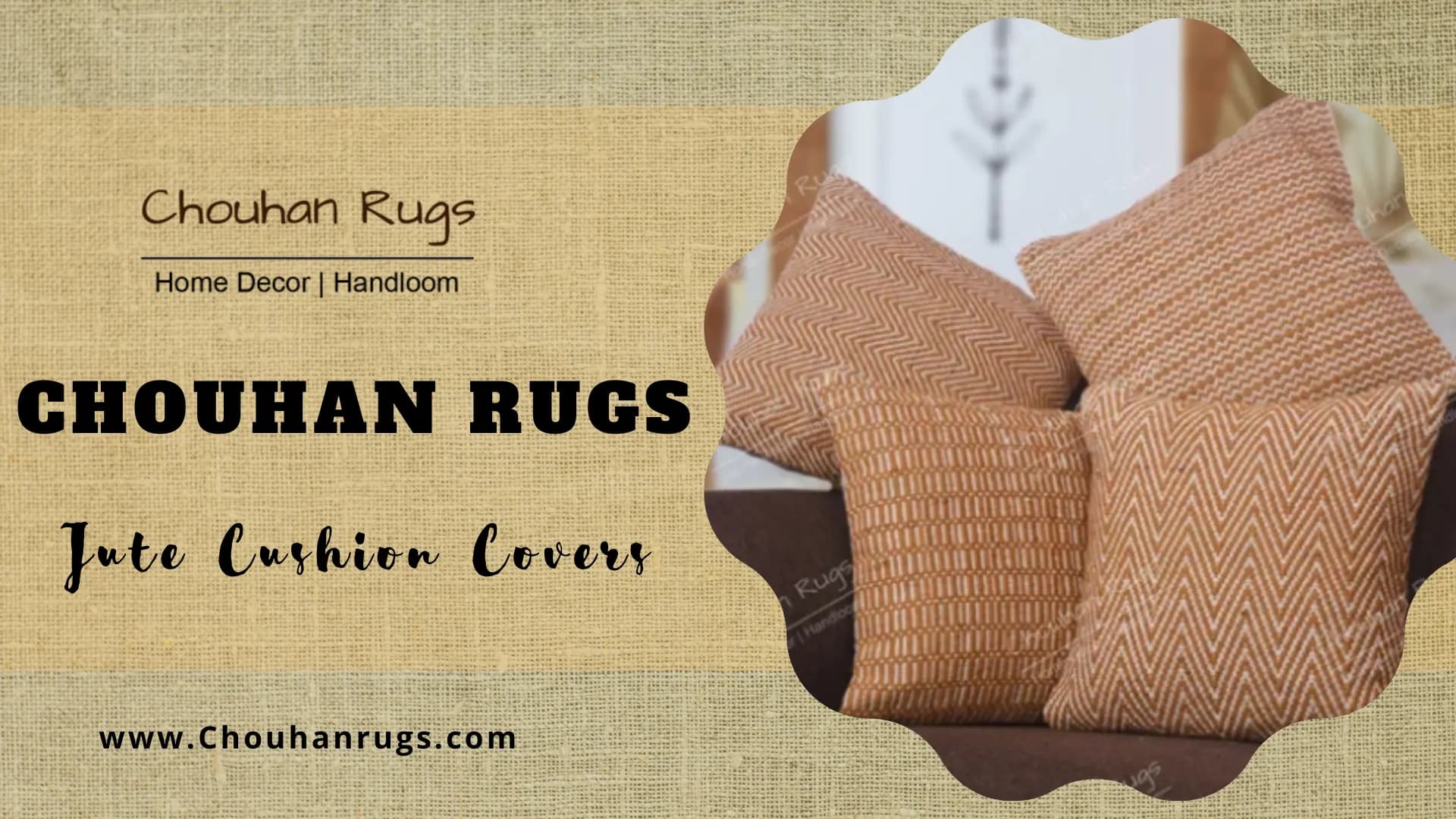 You must consider jute cushion cover to add natural charm and comfort to your home. Jute is a natural and durable fiber which is extracted from stem of jute plant, that grows in tropical and subtropical region of the world. India is largest producer of jute in the world so you get best quality jute product in reasonable price. One of the most feature of jute fiber is that its shinny and silky appearance.
How we (Chouhan Rugs Creates Beautiful Jute Cushion Cover in india

We are biggest Jute Cushion Cover manufacture and exporter of handmade jute rugs, Buy jute cushion covers, jute handmade bags and other home décor items. We are present in the business for over more than 10 years and has a team in which skilled artisans who creates stunning products with traditional methods.
Our all product is next level on the quality as well as beauty but one of our special product is jute cushion cover with wide variety of designs, color in standard size. Each cushion cover is woven 100% cotton and jute fiber which reflects unique texture and pattern. All cushion covers have zip closure for easy removal and insertion of pillow.

We offer a wide range of jute cushion covers, from simple geometric shapes to intricate floral motifs. Some other popular designs include:
• Kilim Jute Cushion Cover: These cushion cover features a colorful kilim pattern that adds a bohemian flair to any room. The kilim design is inspired by the ancient weaving technique of the same name, which originated in Central Asia.

• Ethnic Shams Jute Cushion Cover: These cushion cover showcases an ethnic shams design that blends vibrant hues with intricate motifs. The shams design is influenced by the Islamic art form of the same name, which means "sun" in Arabic and refers to the symmetrical patterns that resemble sunbursts.
• Multi color Jute Cushion Cover: This cushion cover displays a multi color design that creates a cheerful and lively atmosphere. The multi color design is composed of various shades of jute fiber that are dyed using natural dyes derived from plants and minerals.
Why You Should Choose Chouhan Rugs Jute Cushion Covers for Your Home

Jute cushion covers are not only beautiful, but also beneficial for your home and the environment. Here are some of the reasons why you should choose chouhan rugs jute cushion covers for your home:
• Jute is a sustainable and biodegradable material that does not harm the environment or cause pollution. Jute also helps to reduce greenhouse gas emissions by absorbing carbon dioxide and releasing oxygen.
• Jute is a strong and resilient fiber that can withstand wear and tear. Jute also has anti-static and anti-microbial properties that prevent dust accumulation and bacterial growth.
• Jute is a soft and breathable fiber that provides warmth and comfort. Jute also has a low thermal conductivity, which means it can keep you cool in summer and warm in winter.
• Jute cushion covers come in various designs, colors, and sizes that can suit any taste and preference. You can mix and match them with different fabrics, textures, and patterns to create a unique look for your home.